Across Multiple Prêts Mortgages
In this article
Determine your needs and budget
Clearly define the workspace
Get comfortable furniture
Provide enough storage space
Do not forget about the electricity and the internet
Personalize your office
Telework has now become a part of the daily life of a large number of workers. You've probably been working from home on your own for several months now. Whether or not this is new to you, you need to be able to count on a functional and comfortable home office. Otherwise, your productivity and creativity, not to mention your health, may be affected. Fortunately, setting up an effective home office is easier than you think. Here are our top tips.
Determine your needs and budget
Before you begin, start by defining your needs and budget. In fact, the configuration of your office will be greatly influenced by your occupation and the amount you are willing to invest. For example, an architect wouldn't have the same needs as an office automation technician.
The same applies if you are on a tight budget. Perhaps you will have to make some concessions. You may have to reduce the number of decorations planned initially or choose affordable furniture. But even with little money, you can create an office that boosts productivity. However, there's nothing stopping you from improving it incrementally, as your money allows.
Clearly define the workspace
Distractions are home workers' biggest enemies. If possible, choose a closed room. It's even better if it's located further away from the busiest areas of the home, such as the playroom or the living room. If other people are in your house, you will just have to close the door to get a little peace of mind.
Also choose a room that is naturally well lit. Sunlight will help you maintain good energy levels throughout the day. Is the light down there? Add several artificial light sources, such as a light fixture with dimming kit and a desk lamp.
If no room in your house is free, there's nothing stopping you from creating an efficient workspace in your basement, dining room, or living room. However, avoid having your desk in your bedroom. You will tend to work longer and find it difficult to drop out in the evenings and on the weekends.
Also, don't forget to clearly define your work area from other areas of the house, whether using wallpaper or wall painting.
Get comfortable furniture
You will spend many hours at your office. To prevent stiffness, tendinitis, or back pain, get comfortable furniture.
A good computer chair usually provides several adjustments. In particular, you should be able to adjust the seat height, depth, angle, and recline for the backrest, armrests and lumbar support.
If your budget allows, get an adjustable workstation, too. Depending on your height, you can easily increase or decrease the height in order to obtain the optimum working position.
Provide enough storage space
Even in the digital age, your home office should have at least one space where you can store all your papers.
Depending on your needs, get some file cabinets or a library. Do you need more space? Install shelves on the wall or buy a file cabinet on wheels that slide under the desk when you don't need it.
Storage spaces will allow you to have a more refined desk, which will help you be better organized. You will find the contract or invoice faster when you need it.
Do not forget about the electricity and the internet
No matter where your desk is set up, make sure you can easily connect your computer and electronic devices. If your work space has few or no electrical outlets, you may need an extension cord or surge protector. In this case, camouflage them well so that they do not get stuck on ugly wires.
Internet connection can also be an issue if you are far from your router. So make sure to check your internet connection (there are several of them Online tools) Before installing your workstation.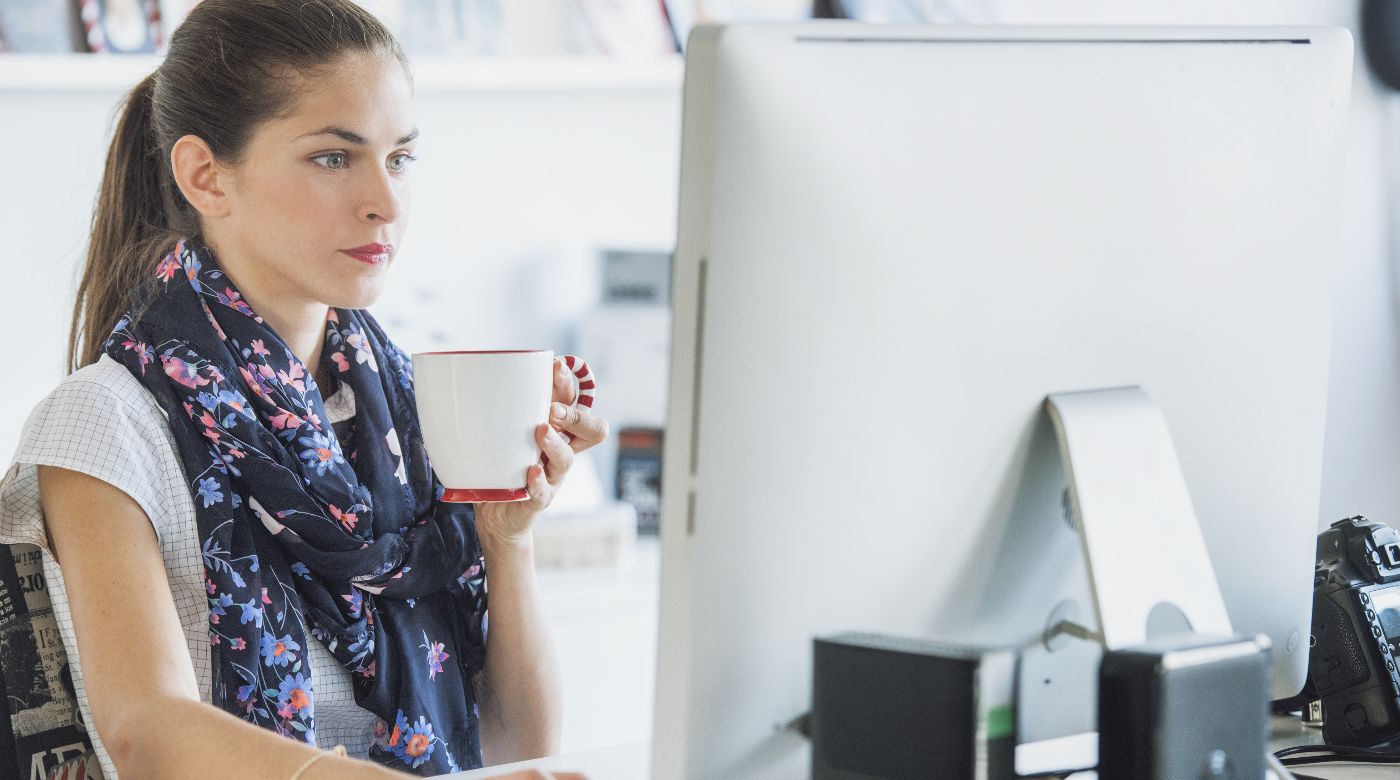 Is your internet connection bad? Change plan. If you must download large files regularly as part of your duties, also remember to choose one that provides a large download limit. Thus it will avoid costly excessive depreciation costs.
If your internet is still slow then the problem could be with your router, this type of device has a limited range of actions. Try to move it near your computer or vice versa. If this is not possible, replace your current device with a long-range router or network (several small Wi-Fi hotspots installed throughout the home). There are also range extenders that allow you to link your router to your computer. Your internet service provider can definitely help you in this area.
In addition to improving file download speed, good internet connection allows for smoother video conferencing calls.
Personalize your office
Home offices are often the last decorated rooms in a home. However, the decorations add a touch of flair to the workspace, allowing you to work in a warmer setting.
If your office is in a closed room, feel free to paint the walls. Prefer muted and neutral colors. On the other hand, nothing prevents you from applying a bright color, like green or yellow, to a wall, to add a little oomph to your environment.
Also think about decorative elements to create a room that further reflects your personality. Photo frames can decorate the wall nicely, while plants, vases, and bedspreads add a personal touch, especially in outdoor workspaces.
If telecommuting appears to be temporary in the spring of 2020, it is clearly still a small part of our lives. Therefore, it may stabilize as well!
To remember
Set up your workspace in a quiet, well-lit area.
Provide sufficient filing cabinets and libraries to store all your files.
Make sure you have a good internet connection.
Invest in comfortable furniture to prevent muscle soreness.
Add a personal touch with the help of paint, wallpaper, photo frames, and DIY tools.
"Music guru. Incurable web practitioner. Thinker. Lifelong zombie junkie. Tv buff. Typical organizer. Evil beer scholar."