Australians are called to the polls on Saturday to vote on an unprecedented constitutional amendment proposed by Anthony Albanese's Labor government. The outcome of the referendum will allow indigenous peoples to be recognized in the country's constitution and given a "voice" in parliament.
A special collaboration Charlotte CroulxIn Australia
Unlike Canada, Australia does not recognize its indigenous peoples in its constitution. Yes success will allow such recognition and creation of a consulting firm the voice.
Composed of tribal members, it the voice It would allow Aboriginal and Torres Strait Islander peoples (situated between Australia and Papua New Guinea to the north) to be represented in Parliament on issues that concern them. It acts as an advisory body to elected officials, providing non-binding advice and essentially acting as a lobby.
The idea is the result of decades of work by Indigenous activists and stems from the 2017 Uluru Report. According to Madeleine Siam, associate professor at La Trobe University's Faculty of Law, The referendum gives Australians a chance to correct the myth of "terra nullius", according to which the territory was uninhabited when British settlers arrived..
Even the possibility of it Fill in the gap It is between Aboriginal people and other Australians. For example, Aboriginal and Torres Strait Islander people make up only 3% of the Australian population, but make up 27% of the national incarcerated population.
To pass, the referendum would need a double majority, meaning a majority of the national population and a majority of voters in at least four of the six Australian states.
Voting is compulsory in Australia. According to Matt Qvortrup, a referendum expert and visiting professor of constitutional law at the Australian National University, this element works against the Yes camp.
For many Australians, 'voice' is a new feature that they don't necessarily understand very well. Because of doubt and pressure to vote, they are more likely to lean towards No. This, combined with the opposition's lack of support, may explain the lack of victory that opinion polls predict.
George Williams, Professor of Constitutional and Human Rights Law at the University of New South Wales, agrees: It's very difficult to win a referendum in Australia. Since 1901, of the 44 referendums submitted to the population, only 8 have received sufficient support – the last since 1977.
Believers in spite of everything
Dean Parkin is the director of the Yes campaign in Australia.
Photo: Radio-Canada / Charlotte Croulx
In Sydney, Yes campaigners were not short of enthusiasm. Like the signs, volunteers are plentiful and ubiquitous in the city. Referendums are very difficult to win in Australia. They don't happen often, so it's an important time, but we're excited about what we're seeing on the groundDean Parkin, director of the Coalition for the Yes Campaign, says of Minjeriba's Guantamooga people:
For Benny Gerstel, head of the Yes campaign in the northern Sydney region, even if the No vote doesn't win, the whole process will not be a waste of advancing the cause of Australia's first peoples. This has allowed many Australians to explore the history, status and knowledge of Aboriginal people.She argues.
Activist Benny Gerstle (yellow, right) unites Yes protesters.
Photo: Radio-Canada / Charlotte Croulx
If the Yes campaign is showing its colors loud and clear in Sydney, it's less so for the No camp, which is generally more discreet. The protest movement is no less popular, especially online, where misinformation has contributed to its virality.
Section without camp
It is important to know which position is divided into two camps: conservative and non-progressive.
Encouraged by opposition leader Peter Dutton, the non-conservative campaign was based mainly on the surrounding uncertainty. the voice. Its detractors believe that indigenous agency is dangerous, unknown, permanent and divisive.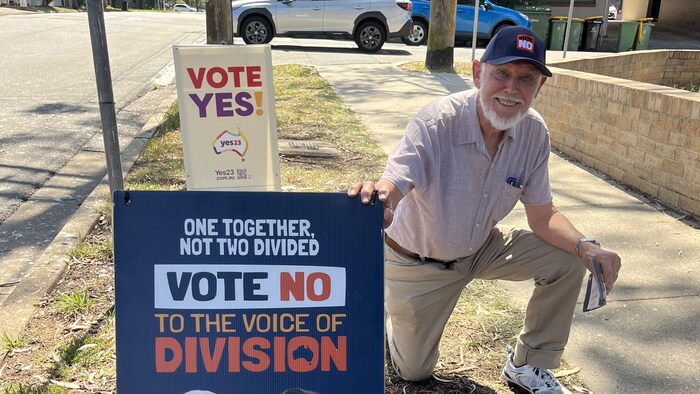 Ray Devney is a No Camp supporter and resident of the Sydney suburb of Padstow
Photo: Radio-Canada / Charlotte Croulx
Ray Devney was one of them. He believes that the voice Creating undeserved benefits. Why should people of one race have more say than another in what happens to them or those around them? In Australia we are all equal, we are all treated by the law and the constitution is equal to all. Mr Devney lives in the Sydney suburb of Padstow and comes from a UK family that has been in Australia for five generations. He firmly believes that this welcoming land is a A multicultural country where everyone should be treated fairly: everyone who comes to live here, not just those who have been here before.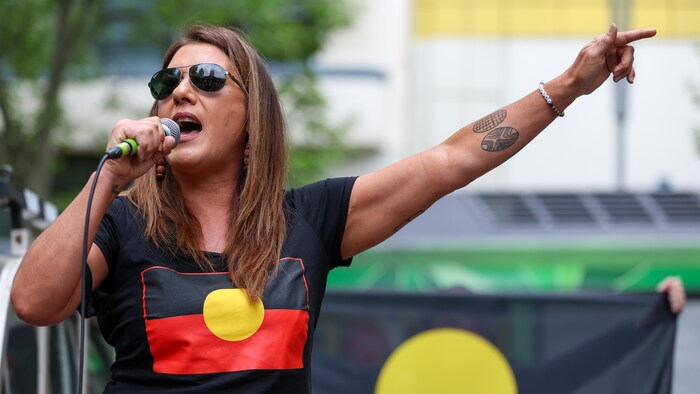 Independent Senator Lydia Thorpe rejected the referendum on 14 October.
Photo: Getty Images / Asanga Ratnayake
As for the progressive campaign, it unites many indigenous people who believe it will be more than enough for other solutions. the voice. This is the case of Lydia Thorpe, an independent senator and descendant of the Kunnai, Kunditkamara and Tjab Wurung peoples who oppose constitutional recognition of Indigenous Australians.
Reached by phone, she was categorical: We have rejected this proposal every time this country has introduced it because there is no consensus on this constitution. This is the position accepted by the movement Black SovereigntyThis is the part that puts exposing the truth and signing contracts before acceptance. the voice.
There is a long road ahead and we must provide leadership to heal this nation. But this leadership must come from the bottom up, not from a top-down approach – that's not how we act and operate.
According to the senator, addressing these postcolonial questions is critical if we are to believe in the possibility of reconciliation.
"Certified food fanatic. Extreme internet guru. Gamer. Evil beeraholic. Zombie ninja. Problem solver. Unapologetic alcohol lover."