Exciting trips can sometimes be marred by the tiring of packing your suitcase. Between choosing the right clothes and not exceeding weight limits, optimizing the space in your suitcase can seem daunting.
Fortunately, tiktoker has shared its ingenious tricks for mastering this tricky art. In a video recently posted on social media, she revealed clever tips for maximizing space in your suitcase. Let's discover these practical tips that can revolutionize the way you prepare your luggage.
Travel Bag: Roll clothes
One of the first tricks that a TikTok creator generously shares is the clothes-rolling technique. According to his wise advice, this simple yet smart approach could be the key to freeing up precious inches in your suitcase. This approach not only reduces the risk of unwanted wrinkles, but also significantly saves space. In addition to these advantages, this method can revolutionize the way you search for your items once you reach your destination. No more the usual clutter settling in a crowded suitcase, this trick can provide the ultimate organization for carefree travel.
TRAVEL CASE: Travel-sized cosmetics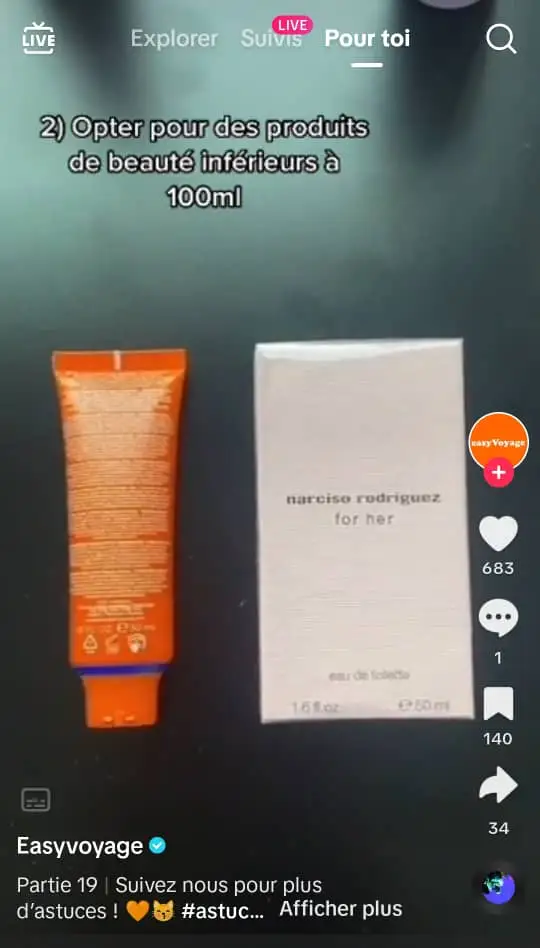 When it comes to organizing your beauty products, this TikTok creator shares another valuable tip: go for containers under 100ml. According to his informed advice, this strategy has a double advantage. First, it complies with airport regulations that limit the amount of liquids in hand luggage. On the other hand, it provides an exceptional opportunity to improve your space. By replacing bulky products with mini versions, you're creating valuable space for essentials while keeping your toiletry bag lightweight and well-organized.
Travel bag: sock candy trick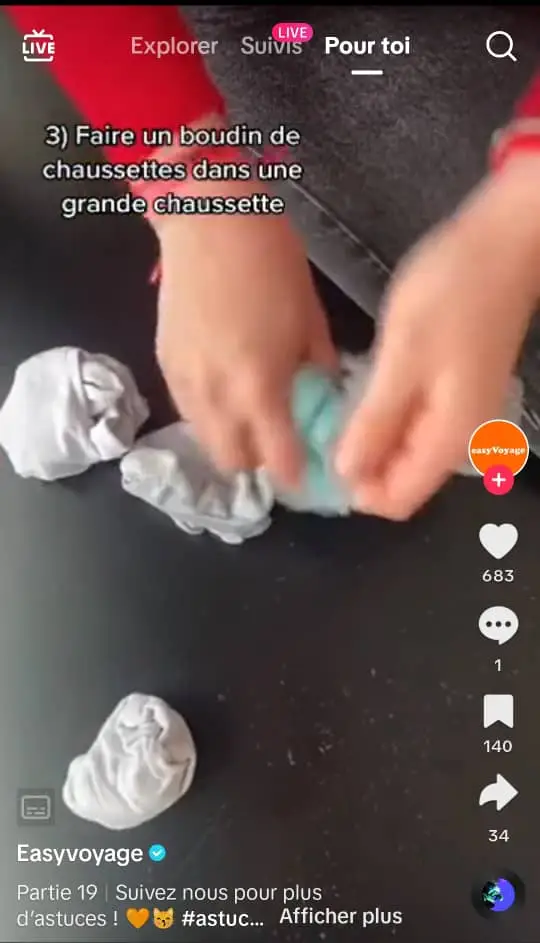 One interesting trick that the TikTok designer has revealed is making what she calls "sock candy" inside a big sock. The idea behind this innovative method is to bundle all of your mini socks into one compact unit, rather than scattering them all over your bag. This clever approach not only saves you space, but also plays an important role in managing the space of your suitcase. By preventing the usual clutter and organizing your stuff efficiently, this tip can go a long way towards a more organized and convenient travel experience.
Travel bag: Use the pockets for optimal organization
A useful tip shared by this tiktoker is to resort to using different bags to organize your travel items. By taking this approach, you can prevent your belongings from becoming bulky and hard to spot. By assigning different bags to certain categories of items, you greatly simplify the process of finding what you need during your trip. Plus, she offers a clever trick: designate a specific pocket for your shoes. This ingenious idea aims to prevent the dirty soles of your shoes from compromising the cleanliness of your clothes. suitcase. By choosing this storage solution, you are promoting an organized and hygienic storage space.
Don't forget the basics
To complete the tips revealed by this tiktokeuse, it is necessary to keep in mind two crucial items: your passport and your mask. By emphasizing these two goals, it highlights the need to fully and proactively prepare for the day's excursions. In the context of the global situation, it is essential to respect the security protocols in force related to the pandemic. By making sure you carry your passport, the primary document for Trips International standards, in addition to the protective mask and compliance with health regulations, you guarantee a safe travel experience that complies with current requirements.
the video :
"Music guru. Incurable web practitioner. Thinker. Lifelong zombie junkie. Tv buff. Typical organizer. Evil beer scholar."