In southern Mongolia, where it has barely rained for three years, two nomadic herders installed a pump in a rare body of water in order to scoop up the precious liquid and bring it back to their camp.
In one of the rare oases of the Gobi Desert, these waters are a treasure that is revered daily by the Nergi animal breeder family and other nomads in the region.
On this day in early August, Narqi and his 17-year-old son cross more than 10 kilometers of yellow, barren sandy land, with majestic desolation as far as the eye can see, in order to draw water that will irrigate it. Thousands of goats, sheep and camels were thirsty.
This daily commute is a priority and an increasingly difficult task to accomplish.
Nerji explains that there is hardly enough water for the animals. For our own consumption, I have to go to the nearest village to buy water. The village is located 20 kilometers from our camp.
His name symbolizes his simple Bedouin lifestyle. Nergy literally means Without a name In Mongolian language. He has been a nomadic educator for 20 years. He inherited his grandfather's animals.
The family earns its living by selling animal wool to make cashmere. The mature animals will then be sold to slaughterhouses. Until three years ago, annual seasonal migrations were limited to traditional family areas in southern Mongolia, near the border with China.
The shepherd is promoted among his animals.
Photography: Radio-Canada/Philippe LeBlanc
This place has seen almost no rain since 2020. So Narqi, his family and their employee have been constantly moving around for three years, searching for bodies of water and good pastures that are becoming increasingly rare.
"We stopped here in July because it seemed suitable for the animals," Nerji says. Normally, they try to expel us from such lands, but I paid whoever says he owns these desert lands in order to have peace.
Disagreements between nomadic breeders are more common in this country, where, even today, nearly one in three residents adopt this ancestral way of life.
Mongolia is a vast semi-arid region consisting of steppes and the Gobi Desert. The fifth largest desert on the planet is devouring more and more pastures.
Climate change and human activity
In a room decorated with satellite maps, an official from Mongolia's National Meteorological Agency explains that desertification affects more than three-quarters of the territory (76.9%) to varying degrees. The sand encroaches on the grass and the soil becomes poor.
Climate change, as well as human activities, are to blame, says Erdnitsetseg Basandai, director of agricultural meteorology research at the National Meteorological Institute of Mongolia.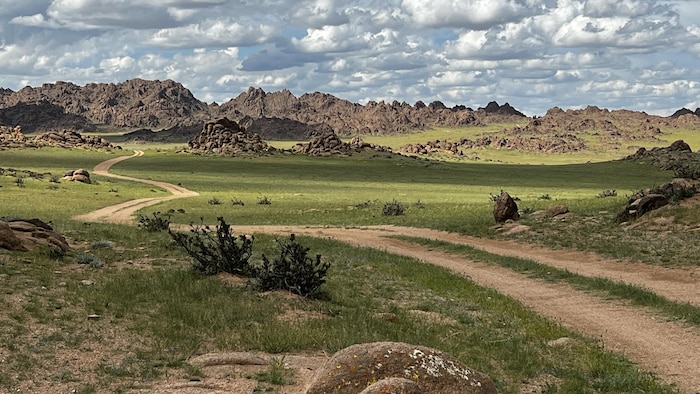 The desert extends over the steppe in Mongolia.
Photography: Radio-Canada/Philippe LeBlanc
Annual temperature rose by more than 2 degrees in 80 years in Mongolia, summer rainfall became shorter and more intense, and winters were harsher. The so-called precipitation useful Hence it decreased by approximately 8%.
Increased mining by major international conglomerates, including Rio Tinto's massive Oyu Tolgoi copper ore complex, and the behavior of nomadic herders, are accelerating the pace of desertification. Since 1990, animal herds have doubled, devouring more pastures and further drying up scarce water sources.
"As a Mongolian, I am very worried," says Erdenetseg Basandai. Bedouin breeders must pursue another profession. If we look at the forecasts for 2050 and 2060, they are very pessimistic. There will not be enough pastures.
The Mongolian Red Cross has also been leading an awareness campaign among breeders for several years and also provides scholarships so that nomads can change their habits to practice better quality and sustainable breeding.
In Mongolia now, if you have a lot of livestock, you're rich, says Nyamkhu Cholongkhu, head of the climate change department at the Mongolian Red Cross. But if your small amount of livestock can give equal production or equivalent income, it is smart and sustainable.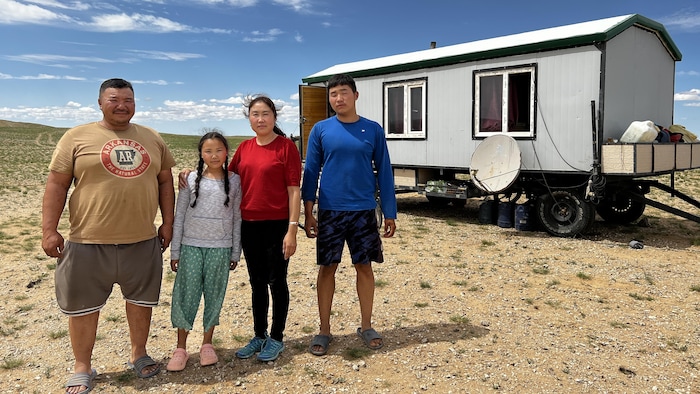 Narki and his family in their camp.
Photography: Radio-Canada/Philippe LeBlanc
In the Gobi Desert, Nerji lives a life of freedom, so simple yet exhausting. He was no longer sure he wanted to pursue this, in light of this new reality.
If next year is as hard as the last few years, I'll go to the city to try to find work.
However, he prefers to continue his nomadic life until his youngest, 10 years old, finishes university.
Desertification in Mongolia threatens an ancient way of life, and experts say it may be a precursor to the social changes and conflicts that climate change may bring elsewhere on the planet. The problem is so stark that the country will host the United Nations Conference on Desertification (COP17) in 2026.
"Total coffee aficionado. Travel buff. Music ninja. Bacon nerd. Beeraholic."