As territorial claims in the South China Sea raise tensions, Southeast Asian leaders are launching a new strategic partnership with Canada, which they see as an anchor for peace in the Indo-Pacific region.
This new strategic partnership with the Association of Southeast Asian Nations (ASEAN) is seen as a symbolic gesture that reflects Canada's expanded presence in the Indo-Pacific region.
I hope that Canada can become an anchor of peace and stability in the region, one that respects international law and encourages more concrete and comprehensive cooperation, especially in the Indo-Pacific region.
Indonesian President Joko Widodo meets with Justin Trudeau on the sidelines of the ASEAN Summit, September 5, 2023.
Photo: Agence France-Presse via Getty Images/ADEK BERRY
Prime Minister Trudeau met with ASEAN leaders this week, on the sidelines of the annual ASEAN Summit.
We share clear commitments to peace and stability, openness and transparency, development and economic cooperation, and we recognize that international rules are essential for growth.Mr. Trudeau argued during his speech.
He also announced that Canada's transformation into one of its strategic partners demonstrates the progress made in concluding a free trade agreement between Canada and the ten-nation bloc.
Chinese claims in the region
China, Taiwan and some ASEAN member states — Brunei, Malaysia, the Philippines and Vietnam — have been locked for decades in an increasingly tense regional standoff in the South China Sea, where most of the world's trade is.
China has alarmed several countries in the Asia-Pacific region after it released a new official map claiming most of the South China Sea, as well as disputed parts from India and Russia.
Most of the governments vying for China's sovereignty claims over the South China Sea are members of the Association of Southeast Asian Nations (ASEAN). Meanwhile, India will host G20 negotiations later this week, which Mr. Trudeau is expected to attend.
Earlier today, the Canadian Prime Minister held private meetings on the sidelines of the summit with the leaders of Malaysia, Vietnam, South Korea, the Philippines and Australia.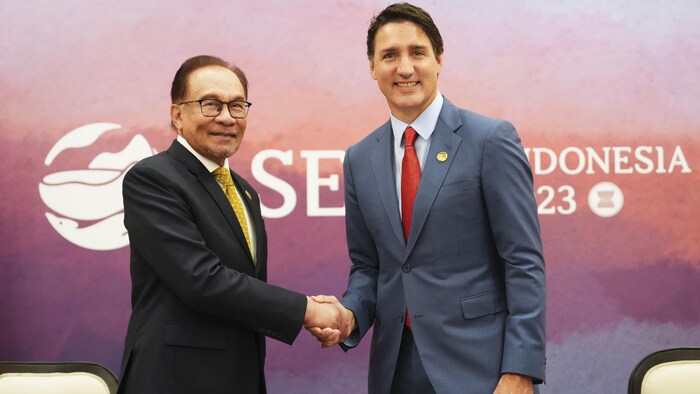 Prime Minister Justin Trudeau participates in a bilateral meeting with Malaysian Prime Minister Anwar Ibrahim during the ASEAN Summit in Jakarta, Indonesia, Wednesday, September 6, 2023.
Photo: The Canadian Press/Sean Kilpatrick
During Trudeau's meeting with Vietnamese Prime Minister Pham Minh Chinh and Malaysian Prime Minister Anwar Ibrahim, the leaders separately discussed their commitment to defending the international order and establishing a free and open region in the Indo-Pacific, according to a report from the Prime Minister's Office.
Justin Trudeau also expressed ASEAN leaders' interest in Canada joining the East Asia Summit and the Expanded ASEAN Defense Ministers' Meeting, enhancing security and defense cooperation for peace, stability and development.
Focus on food insecurity
Canada also published a joint declaration on combating food insecurity with the ten countries.
This reflects Prime Minister Trudeau's commitment to investing in green infrastructure and supply chain resilience, especially food supply, in the Indo-Pacific region.
According to the Prime Minister's statements, Canada is primarily focused on investing in renewable energy and water projects in the region.
Prime Minister Trudeau also described Canada as a reliable supplier of natural resources such as fertilizers and essential minerals, saying it has the clean energy the world needs to contribute to its green energy transition.
Foreign ministers of the Association of Southeast Asian Nations (ASEAN) in Jakarta on September 4
Photo: Getty Images/Mast Erham
In their joint statement, ASEAN members said they would work with Canada to maintain supplies in the food trade.
Just one year ago, the decision to elevate Canada to strategic partner status was not unanimous among ASEAN leaders.
The Prime Minister was well received at the summit, with the South Korean President describing Mr. Trudeau as a close friend and someone he always wanted to meet.
In the evening, Mr. Trudeau is expected to attend a dinner with the Indonesian president before traveling to Singapore on Thursday. He will then attend the G20 summit in New Delhi later this week.
"Total coffee aficionado. Travel buff. Music ninja. Bacon nerd. Beeraholic."